This year I created Christmas gourd elves to add some festive cheer to my gourd family. Meet Fig, Tinsel, Pip, Lolly, and Jingle. My fingers were itching to work with holiday fabrics, cinnamon sticks, and jingle bells. I started collecting faux fur and fabric. Laying them out on the table with sprigs of pine, twigs, and berries. Que the Christmas music,  heat up the glue gun, and sharpen the pencil. 
This idea of Christmas gourds had started to percolate the year prior. I had asked friends and family, "What should I make out of my gourds for Christmas?" Snowmen, snowmen, and snowmen were the overall response.   So I circled around and around the idea of snowmen inside my creative brain. I painted a few gourds white, carved out their faces, and then carved some snowflakes. I looked down at them and thought "Uh". Not feeling it.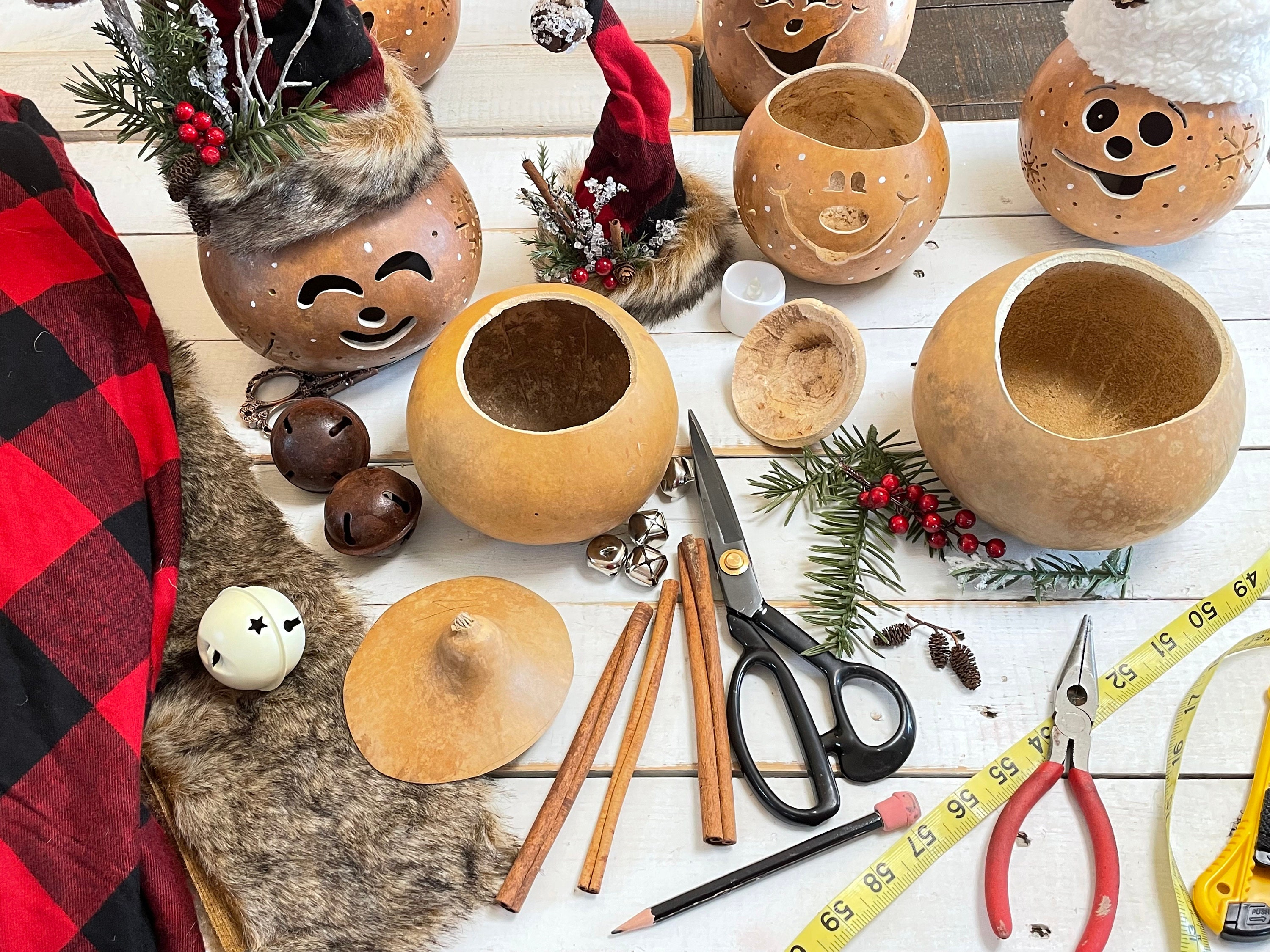 Although many artists paint gourds beautifully, it wasn't working for me. Part of what I enjoy about creating with gourds is that in the end, you can still see that it actually started as a dried vegetable. My entirely white-painted gourds just looked like they could be a piece of plastic. It seemed sad to hide a beautiful gourd behind the paint. So the half-made snowmen gourds sat on my work table for about a year. My "Christmas Gourds" would have to wait. 
Then the lightbulb turned on this past fall. I had it! "Gourd Elves" is the way to go! To start, I knew I wanted some classic buffalo check-themed hats. Meet Jingle and his sidekick Fig. It is shocking how long I looked for the right jungle bells, and a little embarrassing. I only needed a couple to get started. I think I ended up with at least sixty! Not all jingle bells are alike. Settling on a few options I still needed to customize the look a bit, adding the sparkly snow myself.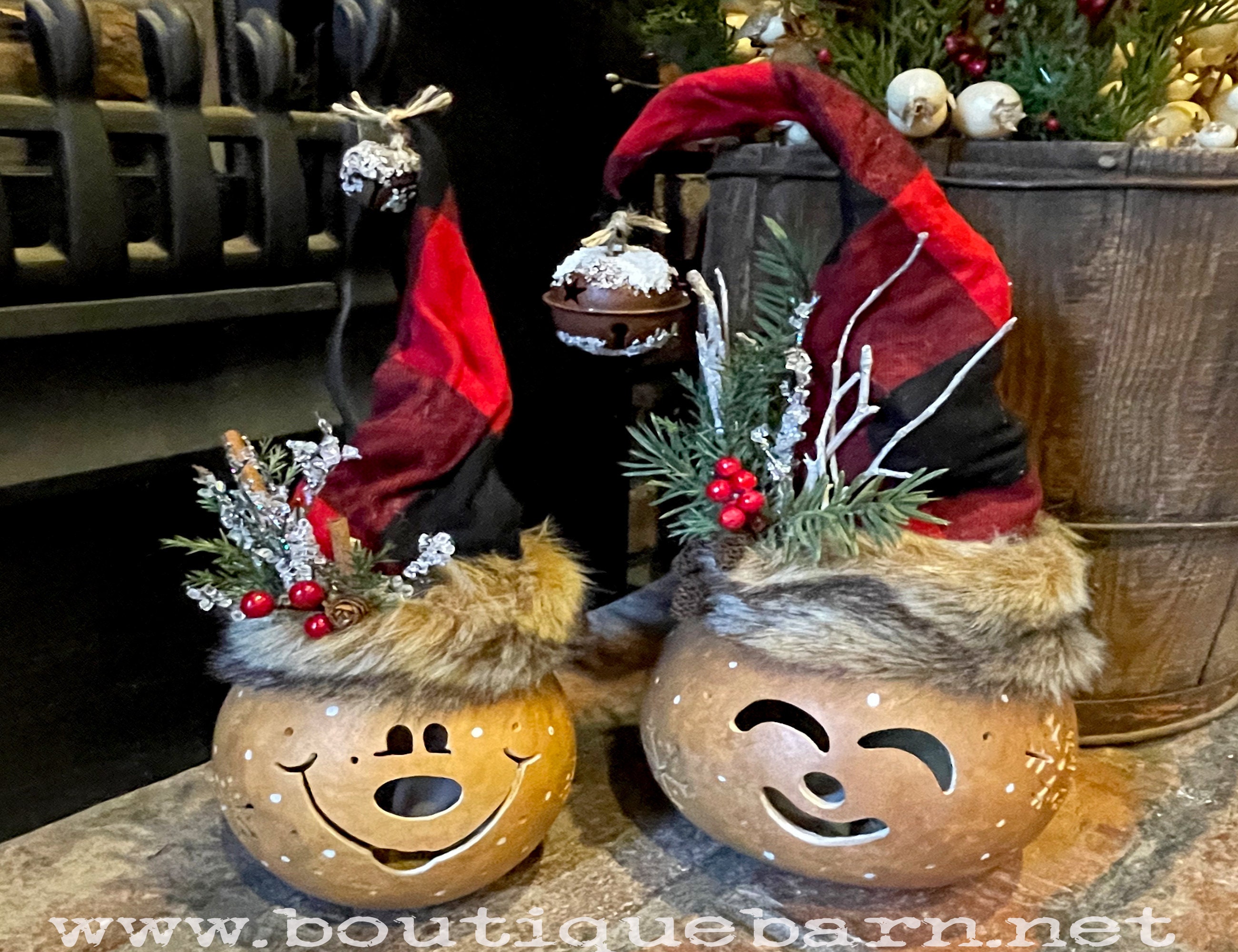 Lolly came next. I had some pretty red burlap for her, adding some fluffy white sherpa for a Saint Nicholas vibe.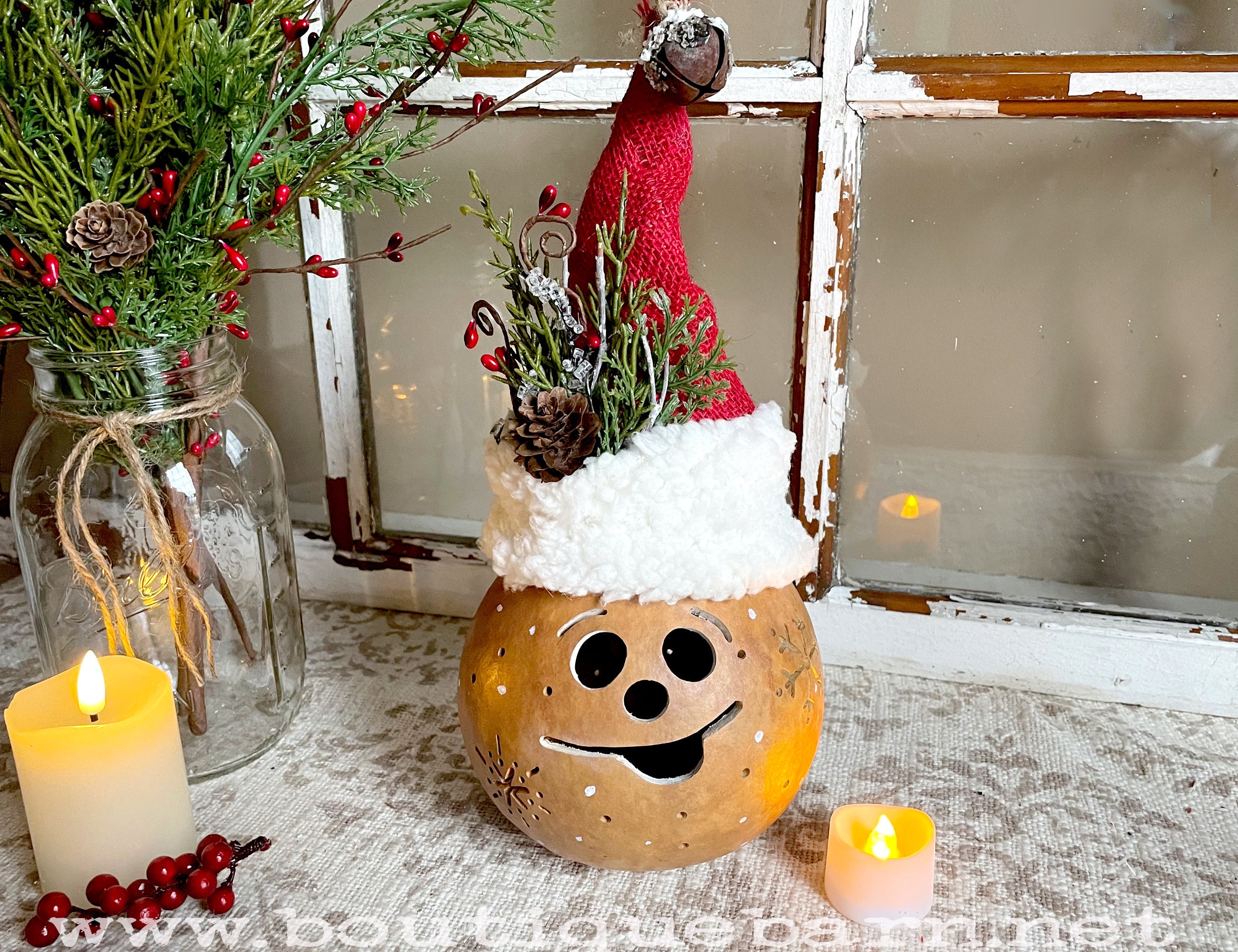 Tinsel and Pip fulfilled my need for a neutral-themed Christmas look. I adore the feeling of fluffy sherpa, and it really fits what I think the North Pole elves would require in those cold temperatures. It's cute but functional. Tinsel has frosted twigs and greenery and silver jingle bells.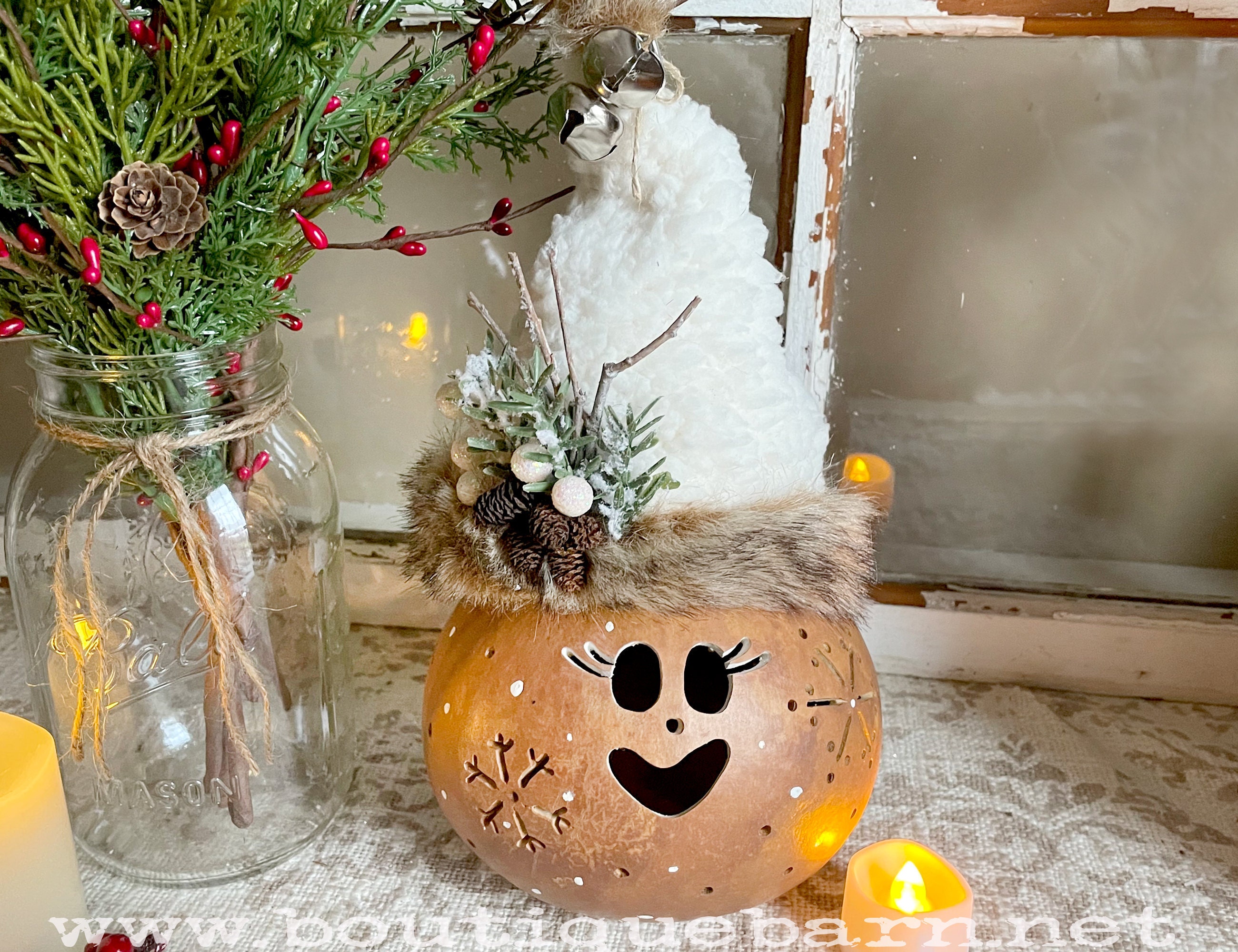 And last but not least, Pip. Pip is the oldest and the head of this Christmas gourd gang. He is the tallest elf and wears his Christmas hat with pride. It is made with burlap, with a sherpa trim. His winter white bell hangs down in a saucy style. Pip keeps the other gourd elves on task in the workshop.  He leads them in Christmas caroling, and hands out the hot cocoa in abundance!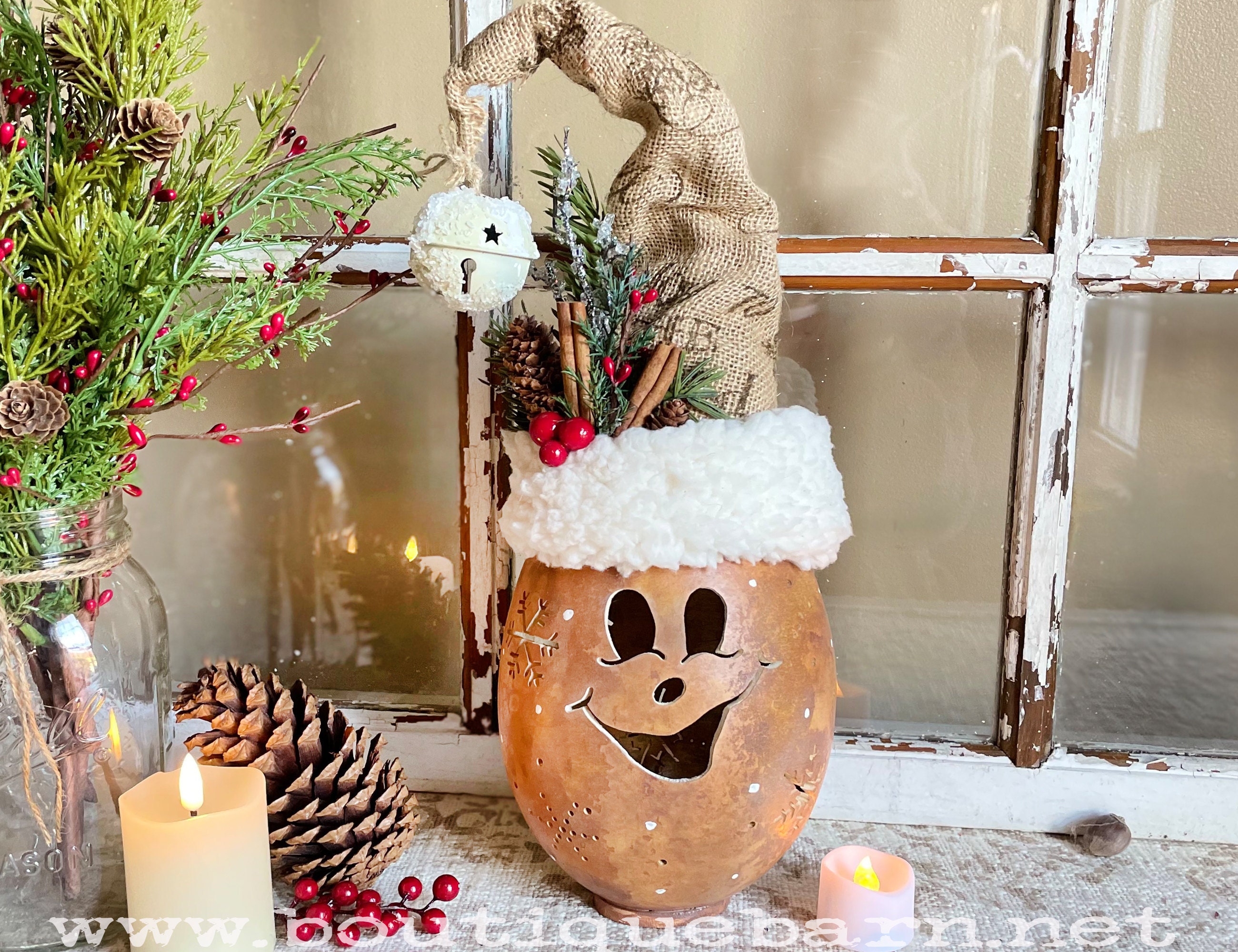 I'll be looking forward to welcoming in some new elves next year!