One late night I received a text from a close friend. She was in the midst of helping her daughter plan her spring wedding. She asked if I could make a custom piece for her daughter Aubrey and Fiance Mike. She included a sketch and said, "Could we make something like this, minus the spaghetti sauce LOl?"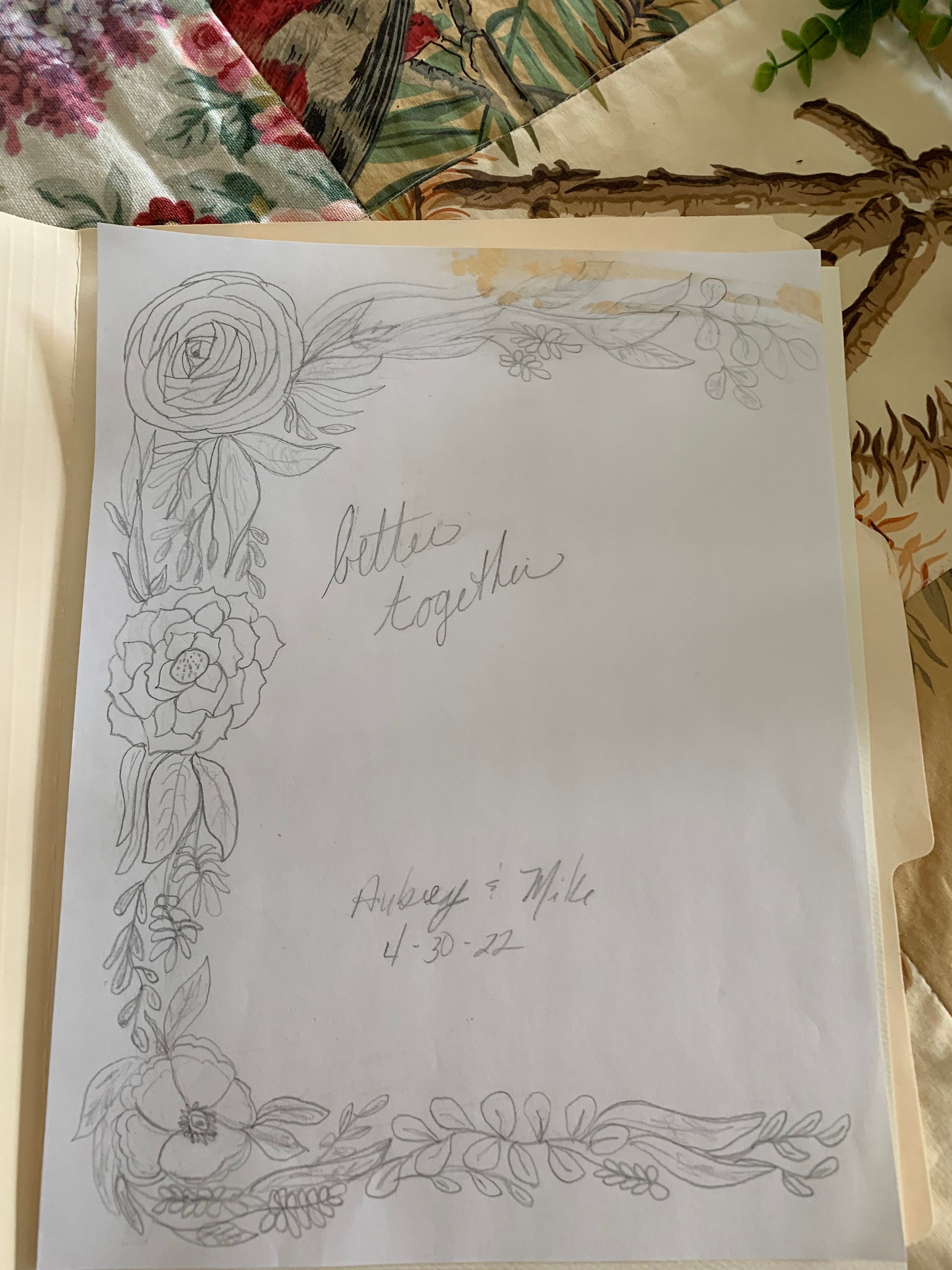 Of course, I was honored she asked me. But I was fairly certain my friend didn't draw regularly. As I squinted at the image on my phone of what she sent me, I immediately text her back "Did you draw this???" 
She replied "Yes! I researched on Google how to draw and came up with this, but we don't have to use this look exactly." I was so touched by her efforts to take the time to actually teach herself how to draw, so her daughter would have something special to welcome her wedding guests. Now that is the perfect example of a mother's love. I teared up and said, "I would love to create something for Aubrey and MIke!" Even better, I had in my wood supplies some reclaimed wood that once belonged to my friend's brother who passed away. So this custom piece would be made from the reclaimed wood collection of Aubrey's uncle and the artwork drawn by her mom! 
I went to the woodpile and started searching for some "good" pieces. We wanted it to be somewhat square, about 25 x 25 inches.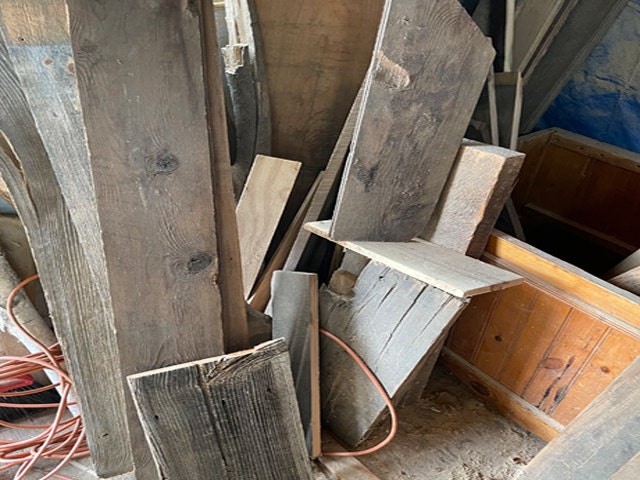 The design elements I had to work with were
The hand-drawn sketch, minus the spaghetti sauce.
I wanted to include dragonflies as I know they have a special meaning in their family.
Aubrey and Mike have two cats that are very close to royalty, so I thought it would be fun to include them as they couldn't attend the wedding :)
The very special reclaimed wood.
I cut the wood and created a pallet for the artwork. I lightly sanded down the wood, leaving much of the natural patina created by the outdoor elements over time. I usually try to keep the wood as rough as possible to really capture a rustic feel. Slight cracks and nail heads are left "as is" for added rustic texture. The artwork and lettering are all wood burned by hand. The beautiful brown color created with pyrography, "drawing with fire", is a perfect complement to the reclaimed wood!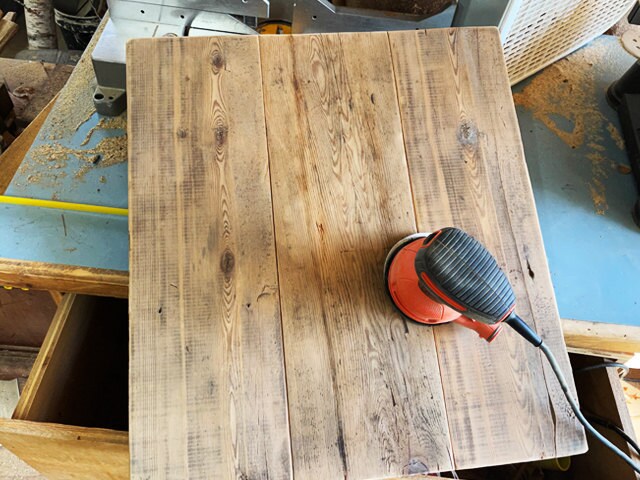 Working in photoshop, I created a layout for the family to look at. The beautiful wedding phrase "Better Together" is centered within a heart pattern drawn from the flight of two dragonflies. The kitties look on in approval, with the happy couple's name and wedding date. Then I print out a supersize pattern to work from.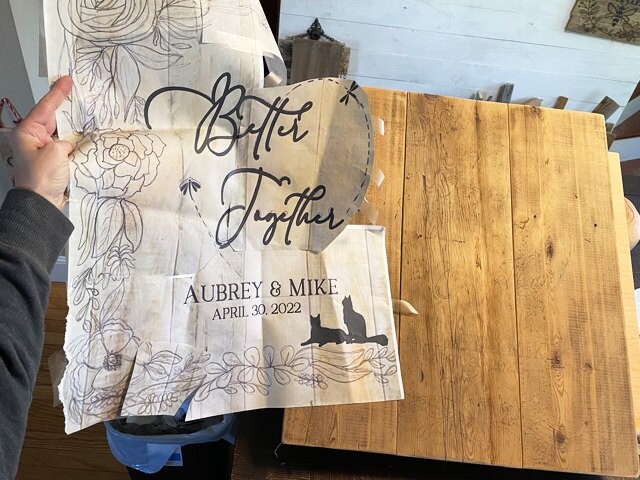 Little by little, I burn the artwork onto the wood. Eventually, a beautifully rustic brown design appears, complimenting the reclaimed wood in the most wonderful way.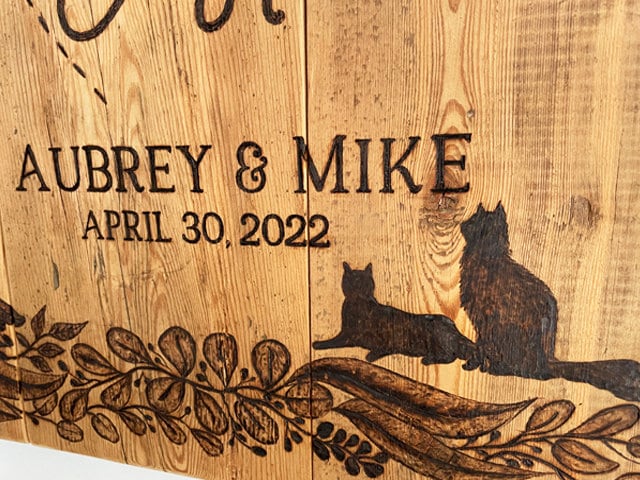 I really love adding the family pets to custom signs! It makes the piece super personal to the family! The wedding was beautiful, I was so happy to be a part of it. The entire day was like one big warm hug!